Unique, elegant and memorable wedding DJ entertainment
The perfect ending to the perfect day...
From the moment your guests receive your invite, this date should be set in their calendar to expect a fantastic and memorable party.
We complete the day by providing an entertaining and modern party for your wedding reception unlike any other. You can be assured that we will play all the music you and your guests select. It's not just about playing good music but about creating the right atmosphere and a party that will make your guests really enjoy your reception We can assure you they will stay right till the end of the night!
Your wedding is the best excuse to organise the party of a lifetime. By selecting and choosing the right entertainment to work with you, we can assure you, your event will capture and hold your guests attention and keep the wedding buzz and excitement throughout your day.
With all the effort and time it takes getting all your important people together - we expect YOU'd want everyone of all ages to have a "great time".
SPACEBAR Wedding Entertainment: A reception party all your guests will remember!
Here is what you can expect with a unique SPACEBAR reception party, click below to learn more.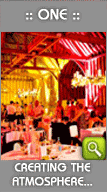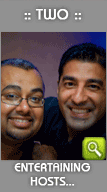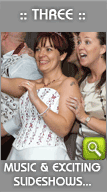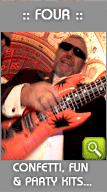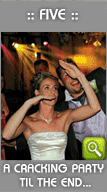 We believe you will not find a more complete wedding entertainment or production service. We are not pub DJs, Radio DJs, Club DJs, Kids party DJs nor cheesy DJs - we are professional and experienced wedding specialists and know that for some customers have distinctive and specific music requirements. Fortunately, you would be working with a DJ that doesn't play the same wedding set that you might come to expect and is mor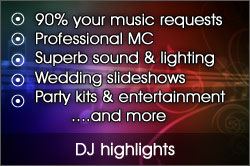 e interested in creating a wedding party around your style, atmosphere and music.
Spacebar has services aimed at all budgets from our innovative iDJ Touchscreen sound and lighting system where you and your guests can be the DJ and we provide all the equipment needed for a DIY party to our premium DJ Entertainment pack for a wedding party all your guests will be talking about.
If you would like us to show professional photos of your wedding day to all your reception guests (great for those who weren't there for the day and a recap of the days events), please take a look at our unique photography service.
Let us entertain you and your guests with what no doubt will be the best party ever... GUARANTEED.
We look forward to hearing from you, please contact us for more information
Customer galleries ...
Every wedding reception party is different and our customers have specific tastes and styles of music. Here are some recent customers weddings where we've worked with couples to ensure we create the right kind of party based around what they wanted with their music. Click on the galleries to see the atmosphere we helpde create at their reception parties.