Since a wedding is the most exciting and photographed day of our lives, it makes sense to create it to fit your personality and plan it to be spectacular.
Want to make your guests REALLY feel part of your day ....
Are you looking for great ideas to WOW and IMPRESS your guests for your day....

Now there

is

a way to make sure your wedding day and reception isn't boring

AND

you can turn it out to be the most exciting and memorable event, that people will

be

talk

ing

about for years to come!
W

ith our advice and experience, you

'll

be able to achieve that goal
Planned to perfection

Every couple knows planning a wedding is stressful, and there are multiple opportunities for mistakes to happen.

SPACEBAR Productions has a wealth of experience and in turn, all our packages and services offer you assistance and advice for FREE.

For couples looking to implement their big day and our interested in our services, our wedding consultation meeting offers help in getting ideas flowing and putting an official plan in place. This includes assistance with your wedding invitations helping you create the perfect wedding invite to working with your style and themes to make a great first impression when your guests see it.

We'll also help you in defining a timeline structure for your wedding day that incorporates your exciting plans and we'll provide helpful bridal resources such as wedding checklists for budget planning, photography shoot lists, table planners, valuable guest trackers, music playlists and even provide you with templates and information on helping the father of the bride and groom with their speeches.

SPACEBAR productions knows that each couple is different and deserves a different service based on their own needs. Isn't it a relief to know that you can get a great package and deal custom designed that incorporates the areas concerning photography, DJ, video and MC. Our wedding consultation period is to simplify details that go into your big day, inspire you with wonderful innovative ideas to personalise your wedding celebration around you, instill confidence in you to bring off a memorable ceremony and reception party and importantly for you to have some fun while doing it.

Our previous clients comments speaks volumes and its in our interest to ensure that your wedding day becomes a success. If you want something truly different, truly outstanding and wondering if SPACEBAR can deliver thats not going to cost the earth, please do look at our customer comments just at the pre-wedding consultation to get a good feeling if we might be the right team for you.

Initial wedding consultation (non-obligatory)

Understand your plan, vision and requirements.
Thoughtful ways to make guests feel welcome and helping you create the perfect wedding invite.
Creating a structured wedding day timeline
Helpful and unique bridal resources that have helped many brides boost their wedding planning
Explain our services

and expertise in areas concerning

music, photo, video)

and build a

package

for you

work that could fit around your day and budgets.

All our packages come with:

Checklists for wedding implementation - our wedding toolkit pack designed for the "Do-It-Yourself" bride
Attendance at venue meetings and home visits regarding our primary services
Assistance with bridal ceremony structure including rehearsals and collaborate with registrars
Consulting for family & friends planning events related to the wedding
Reception floor plan organisation.
Unlimited hours of access via the phone and email for consulting
Schedule an appointment with SPACEBAR and lets make your dream a reality!
Comments from couples who've been to our pre-wedding consultations............
"Thank you very much for you time yesterday it was extremely useful and very informative. " - Alison & Chris
"Thank you also for taking the time to do the presentation for us last week. It was a lot of information but all really useful....I have had to replan my wedding invitations and am very excited to get started now. Thanks again. You guys are amazing. " - Nadean & Mathew
"Thanks very much for all this information and the time you invested last night. Both Ben and I found it very beneficial and appreciate the detail you have put together for us." - Emma & Ben
"Thank you so much for giving up your evening to meet with us last night (and for the coffee and biscuits!). We both left feeling very happy that we held out to find a date that you could do and think what you can provide will be perfect for the type of day we want. We also felt very reassured that our wedding day would be in 'safe hands' – that's a very nice feeling to have! It was also fantastic to be able to see all the different types of invite people had sent and what they had done, as well as all the tools we can download from you – is there anything you haven't thought of! It was brilliant!! " - Sally & Glen (before their wedding) and their comments after their wedding
"Thank you for your time and for your hospitality. We really enjoyed ourselves and we are looking forward to our special day even more" Ben & Tara (before the wedding and after the big day)
"Thanks for your time, all the information and sheets you've given have been more than helpful to us! We are definately interested in hiring you guys" - Victoria & Shane (before and after)
"Just wanted to drop you a quick line to say a huge thank you for your time and inviting us to your home. Really appreciated it, we loved the ideas you showed us and will work on the action plan you've provided to discuss the timings with the church and venue. Again thanks, we wouldn't have realised the issues without speaking to you so we're grateful for your advice." - Alan & Natalie
"Want to avoid a boring reception?!"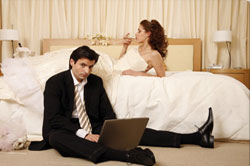 Most of us have been to that wedding that wasn't planned so well. The reception was unorganised and not a lot of fun, then you get home feeling like something was missing.
How can you hope that your reception won't be the same?
Consider if you had access to secret wedding planner's templates, tools and tips… what a difference you could make.

As most of us hope to only get married once and have never been involved in organising a wedding day before where do you start? Do you rely on your venue wedding coordinator (who usually works 9 to 5 but won't actually be available on your actual wedding day? Your wedding takes a lot of time, effort and money to put together and would you rather it just be a cookie cutter wedding - that many venues might treat your day as?. We hope not! Consider also, that your guests have spent time, money and effort enjoying your big day with you.
Our Wedding Toolkit includes everything you need to help create the wedding day and reception you deserve… click here to discover what it's all about and how our pre-wedding consultation shows you tips, tricks and wedding planner secrets so you get the best value for your day - the wedding toolkit comes FREE with our wedding packages.