iDJ party pack...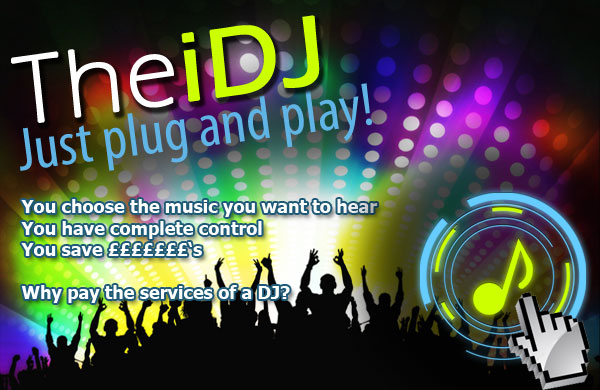 Let your guests be the DJ

SPACEBARs unique iDJ party package is for people who want full control of their party.... and their budgets.

Planning a party and need some music.
This is becoming a popular area for many personal events. You want complete control of your party, something that fills a gap, won't cost the earth and less hassle but still deliver on a creating a good party atmosphere that guests will enjoy.
Our iDJ Disco system is a sleek and elegant music party system that is designed to take up minimal space in your room and includes all the sound and lighting equipment you need to create the right atmosphere for your party or reception,without paying hundreds more for a DJ. People enjoy choosing the music that they want to listen to and because they have had an input into the song selection, they'll feel part of the party and dance and enjoy themselves.
::
Perfect for all events

::

Birthday parties, house parties, anniversaries, christenings, ipod weddings and can even work alongside bands to fill-in during the breaks! Why spend hundreds of pounds on equipment and hours rushing around for your party when we can turn up at the start of your party, set our system up, show you how to use it, then come back and collect it all when you've finished with it. The cost of the iDJ package is cheaper than running around and hiring all the equipment yourself.
::
The iDJ is the smart DJ

::

The iDJ allows you to have full control of your party. Not only does it look cool and takes up less space than would a normal DJ, the iDJ naturally welcomes requests from your guests during the party where it will play and mix songs together so there are no gaps in the dancing. You can of course lock it down or BAN song so it only allows your music requests. It's the perfect solution for those wanting to have a party with complete control. Why pay a DJ to play the tunes you want played, the beauty is that you have no cheesy DJ's to worry about not playing your songs or taking up all the dancefloor space.

We will set the system up, work with you to set up your playlist and then come back and collect and pack it up in the evening.
Lots of f

eatures:
A music system designed specifically for parties in a simple touchscreen interface
A compact and futuristic touchscreen DJ search sound system which is easy to use
Search for your favourite songs using the touch screen keyboard
Fantastic lighting and state of the art powerful BOSE sound system
Hire it for the amount of hours you need it for
100% control of the playlist and thousands of tunes to choose from.
Guests can add their requests or you can LOCK it so only your playlist is played
Thousands of tunes from all the decades right up to last weeks chart
The jukebox can be customised to how you want your guests to interact with it
Add & remove songs to the playlist live whilst the music is playing so it mixes them in
The song list can be setup to play 1 song or unlimited tunes
Specific songs - we can ensure it's all ready before your event
The iDJ can hook into any venue sound system if they have one in place
Different sections of your playlist can be played at different moments, first dance, father/daughter dance etc
The iDJ cleverly mixes from one song to the next so it's a seamless mix
Artists and Song tracks can be searched on the on-screen keyboard
Customised playlists can be designed by us for you

P

erfect for working alongside bands or primary form of entertainment
Simple and cheap - 100% guests satisfaction
You can even BAN songs that you don't want to hear at your party

and genres

The iDJ can make professional announcements for your event, no need for MC/DJ
Facility to allow your iPod, MP3 player and or computer to be

docked

in the IDJ

The iDJ can Mc too - performing the same services a human DJ would usually carry out - master of ceremonies, lead guests to the dancefloor, announcements during the party, tell everyone the night is over - of course you can turn him off too

Advanced DJ mode allows you (or friends) to become DJ

with music scratching and mixing

for the

party. No need for your friends to heavy sound and lights around

Quality sound system

s

to cater for up to 150 people
DJ consulation included - let us take your music requests and put them in a DISCO order

that a DJ would be playing as if they were there at your event

Pick an appropriate iDJ setup to suit your event and guest requirements
Eye candy and gadgety - it'll be the talk of your party
The iDJ monitors music volumes too - just like a real DJ would

Guests will have a choice of requesting music at the party (if you allow them to)

With or without

onsite

DJ (additional charge

£25 per hour

)
100% legal - we have appropriate produb licenses (produb, ppl and mcps)
COMING SOON - Touchscreen Karaoke

in the iDJ
It's the perfect solution to have your music, your way!
Ideal for house parties, birthdays, weddings, corporate events
..."The Spacebar equipment and set up was brilliant and the result was a million times better than a DJ and the usual lighting effects I have seen. I would recommend it for any event and maybe we will use it for our anniversary ? It caused a lot of interest amongst the guests, especially when they realized they could interact with it. Easy to use and go back to songs that were missed when photos were being taken.

::
It's not a party til' the music starts

::

If your party is on a budget and your tempted to use an iPod, check out the iDJ vs iPod battle below. We have iPod rental systems if you require and provide in and around Berkshire and surrounding areas.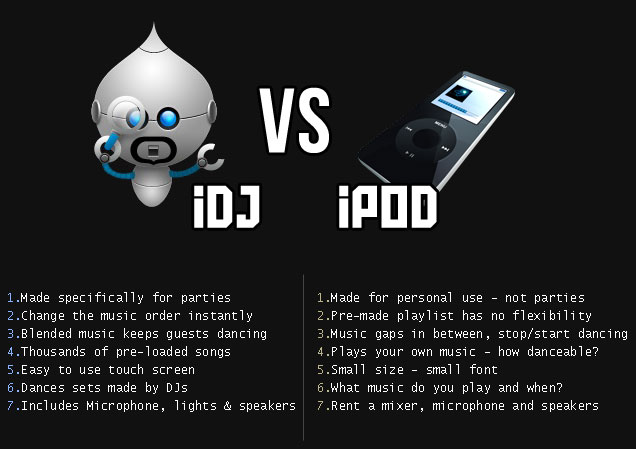 The value of music, even background is iften underestimated by people planning a party. Music sets the tone and atmosphere of your event. We also understand budgets and that is why the iDJ is unique and a great inexpensive option. Contact us today to build you a package that would suit your specific event.
T

he kit
We arrive at least 1 hour before the start time of your party to setup
Onsite operator to setup, prepare all equipment safely and give basic (EASY) training on how everything works
Free delivery within 15mins of RG10, (+£10 for

=>15

mins travel time

).

Professional

BOSE PA sound system
Touchscreen Jukebox system with your playlists included
IDJ ipod mixer
Wireless Microphones provided
Smoke machine with fluids and controller
Small compact rig taking up minimal space (1.5m2 required)
Pack of

10

0 glo sticks
LED Starball light (mirror ball effect)
LED Mirror ball effect - (StarBall Jellydome light)
LED Light sound system (Megamoon light)
1x blue LED uplighter
Associated equipment including stands, tripod, leads and spares
What we need from you
You decide hire period from start to finish

(we can build you a custom package)

Make sure the venue has at least 2x 13amp power sockets required to plug into
1.5m2 space at your venue, ideally suited to be setup in one corner
Deposit for security required
Suitable access to venue/held in a secure location
::
iDJ packs

::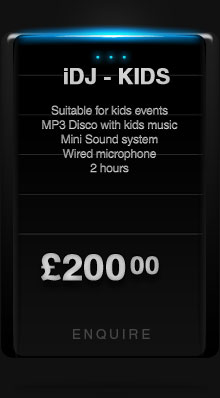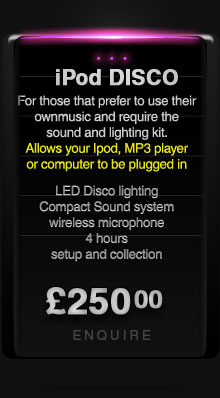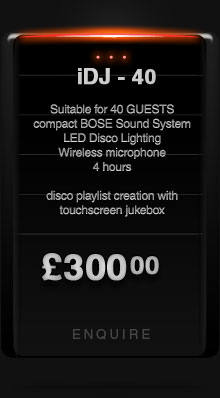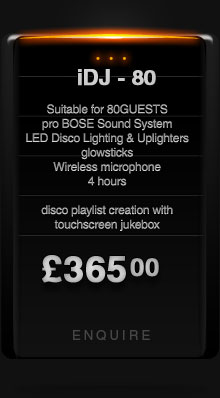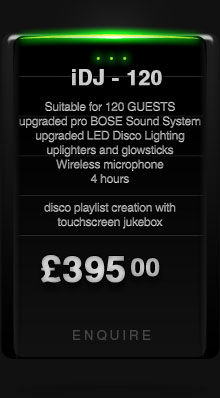 :: OR Design your own pack with our other wedding services ! ::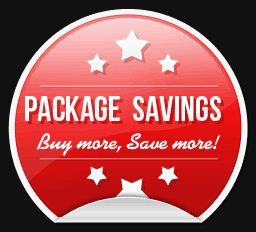 *We offer specialised rates when several packages and options are chosen together after we've understood your plans for your event, contact us for a quote
Upgrades
Prices
Karaoke pack when booked with
iDJ party pack

£150*

i-DJ extra dancefloor lighting option
£70*
i-DJ Lighting upgrade
(req'd for events of 50+ guests)
from £25*
i-DJ Sound upgrade
(req'd for events of

5

0+ guests)
from £25
i-DJ Travel time
FREE
(unless specified)
i-DJ Extended hire time
£

2

0*
(per hour)

iDJ Touchscreen Jukebox with playlist creation

£50

i-DJ E

ngineer

presence
from £

2

0*
(per hour)
i-DJ p

rojector pack

- wedding pictures and/or video shown/edited on big screen
POA
LED Mirror ball hire effect
Traditional mirror ball
£25
£30

Twinkling laser

£25
Sound and Lighting with Engineer
SPACEBAR offers attended hire packages where we not only deliver and set up the equipment for you, but we can stay for the duration of the event. There are several benefits to having the engineer at your event including:



Sound and

Lighting control

We understand the optimum settings and the limits of our sound systems so we can keep it sounding great all night and make sure the the speaker is used within it's limits.
If using a smoke or haze machine we will keep it at a constant level for you. If you are using a microphone we will set the levels for you while you are using it to avoid speaker feedback and other possible issues. Also, in the unlikely event of any problems we are instantly on hand to sort it out.
Other benefits include Public liability insurance - you're covered! If our staff are present then our public liability insurance covers use of the equipment for your event.
Prices
:

Sunday to Thursday (excluding bank holidays)
- £15 per hour
Friday & Saturday Engineer cost per hour
-
£2
5 per hour
Uplighting Hire
Our LED uplighting is incredibly versatile. It can be used as mood lighting in marquees and function rooms. Each uplighter can be set to the exact colour (or colours) to match your theme.
We set the exact colours you ask for - no technical knowledge required
Beautiful bright and vivid colours which can be dimmed if too bright
No need for lighting stands
Suitable for indoor use only (includes inside marquees)
PLEASE NOTE:
All orders require a cash deposit which is returned after the hire, subject to the equipment being in good condition.